She's known to make bold fashion statements be it on the red carpet or the street. And just recently, Vanessa Hudgens brought her signature style to the gym.
Embracing summer brights, the High School Musical star wore a vivid orange sports set on her way out of Dogpound gym after a workout session.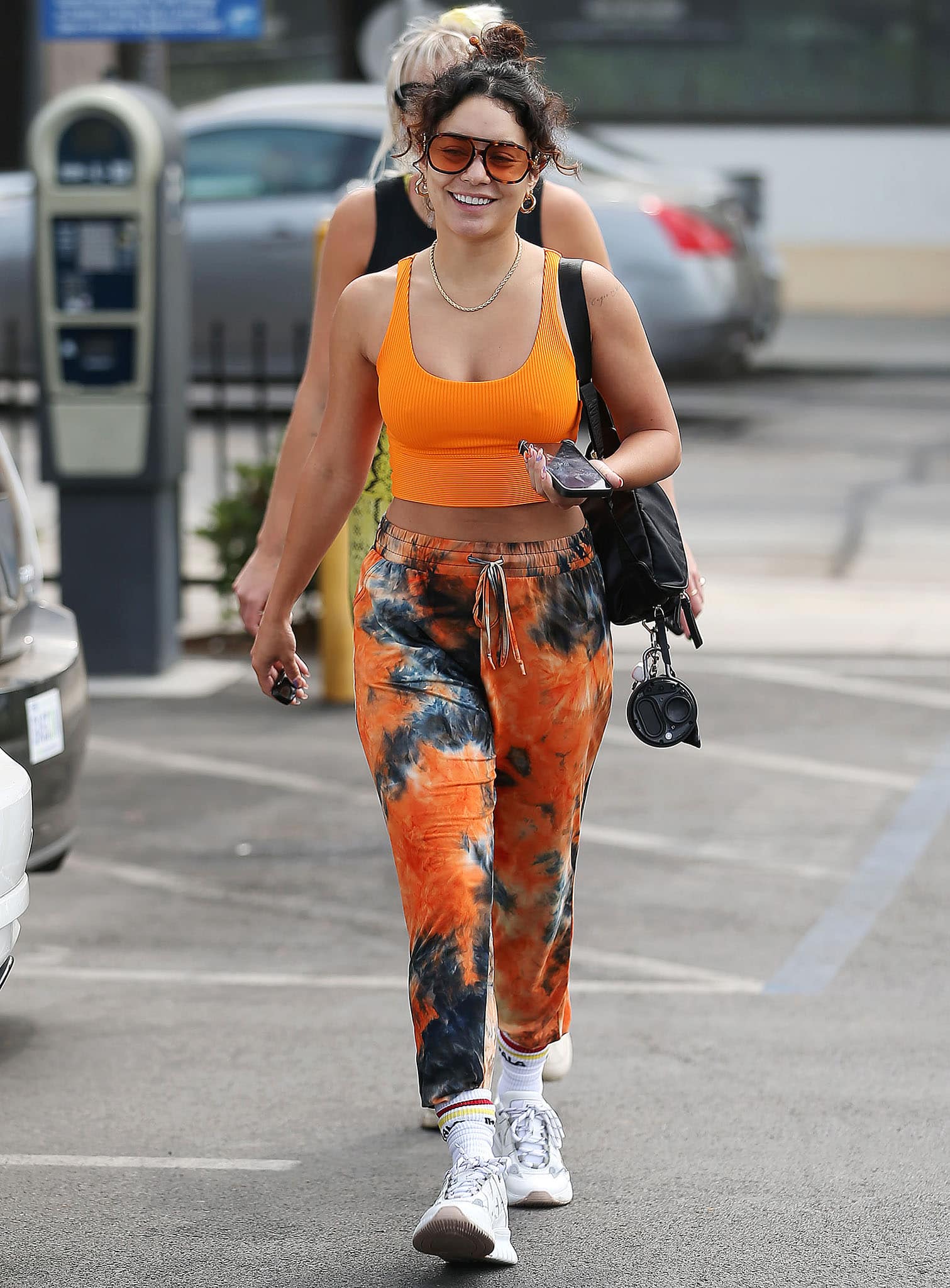 Vanessa Hudgens embrace summer brights in orange sportswear on June 29, 2021 (Credit: Mega / WENN)
She was pictured with her bestie DJ GG Magree, who donned an equally bright athleisure that included a black crop tank top and lime green snake-print leggings.
Vanessa Hudgens leaving Dogpound gym with her best friend GG Magree in lime green snakeskin leggings (Credit: Mega / WENN)
The 32-year-old Thunderbirds actress showed a hint of cleavage and midriff in her ribbed orange crop top, which she teamed with orange and black drawstring joggers.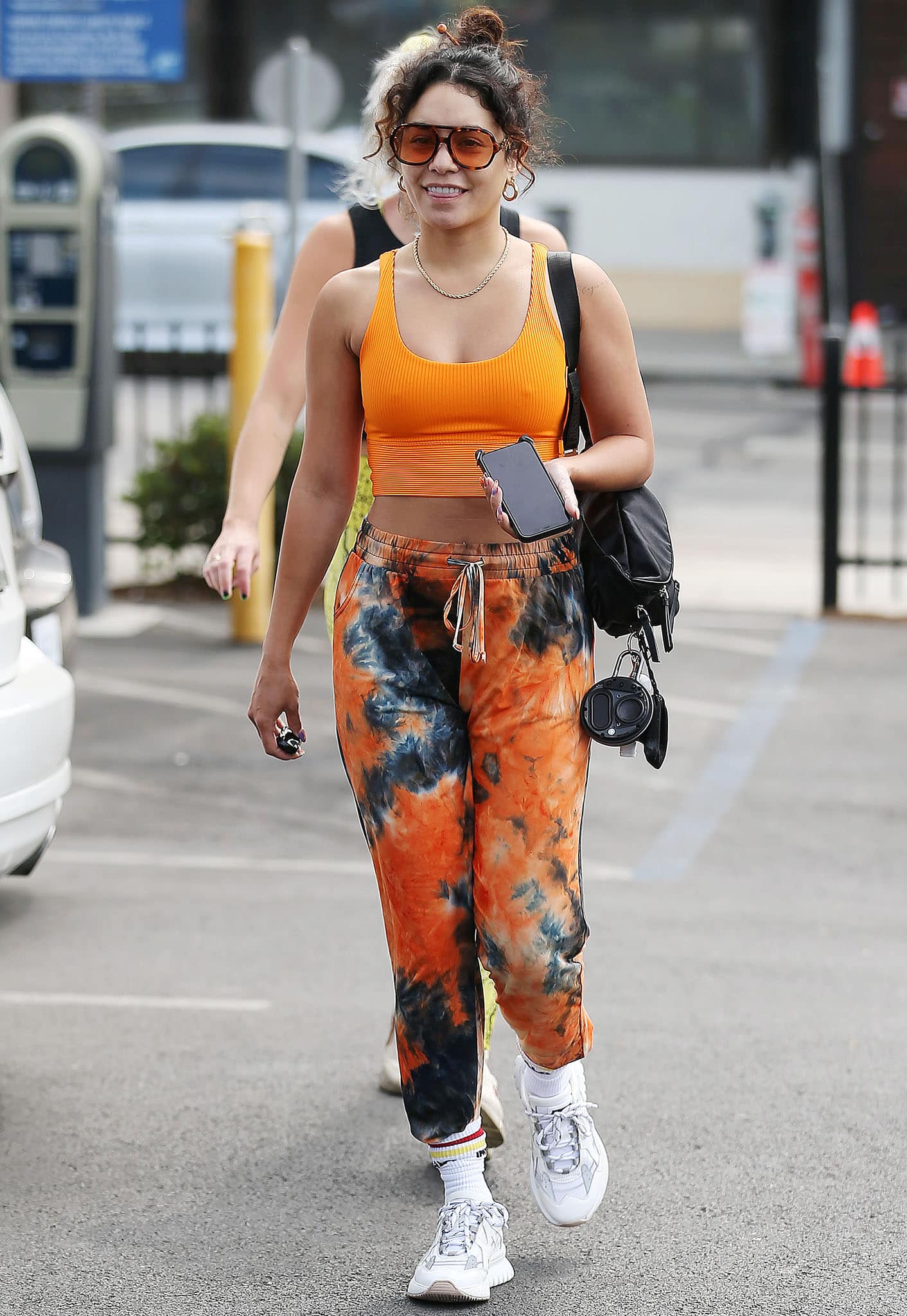 Braless Vanessa Hudgens flashes abs and cleavage in an orange sports bra and orange tie-dye joggers (Credit: Mega / WENN)
She elevated her sporty outfit with $550 Jennifer Fisher Baby Jamma gold hoop earrings and a $40-rope chain necklace from The Sis Kiss. Her round tinted tortoiseshell sunglasses added a hint of a '70s vibe to her workout look.
She then wore her curly tresses up into a messy do and carried her gym essentials in a $110 Poppy Lissiman Malibu black waist bag.
Vanessa Hudgens wears her curly tresses into a messy bun as she hides her eyes behind her tinted tortoiseshell sunnies (Credit: Mega / WENN)
To tone down her bright outfit, Vanessa wore a pair of vintage striped white socks with chunky white sneakers from Mercer Amsterdam.
The "Jupiter" has white and gray leather and mesh upper with contrasting pink hints on the side, a rubber Thunder Mercer logo branding on the tongue, and the brand's R-Coil sole technology.
Vanessa Hudgens balances her bright workout look with white Mercer Amsterdam Jupiter shoes (Credit: Mega / WENN)
Mercer Amsterdam 'Jupiter' Shoes, $200
Featuring the label's R-Coil sole technology, Mercer Amsterdam's most advanced sneaker is named after the Roman God Jupiter (Credit: Mega / WENN)
Cole Tucker's girlfriend wore the same shoes while strolling with GG following another gym session the previous day.
Vanessa Hudgens and GG Magree step out for a stroll in Studio City on June 28, 2021 (Credit: Mega / WENN)
She paired the chunky kicks with WAYF '98 logo crew socks (available for $12 at Nordstrom) and a black and white athleisure that showed a glimpse of her toned stomach.
Her outfit included a white cropped sweatshirt and $62 Stax black leggings, styled with multiple accessories. Along with her hoop earrings and chain necklace, Vanessa also wore a couple of rings.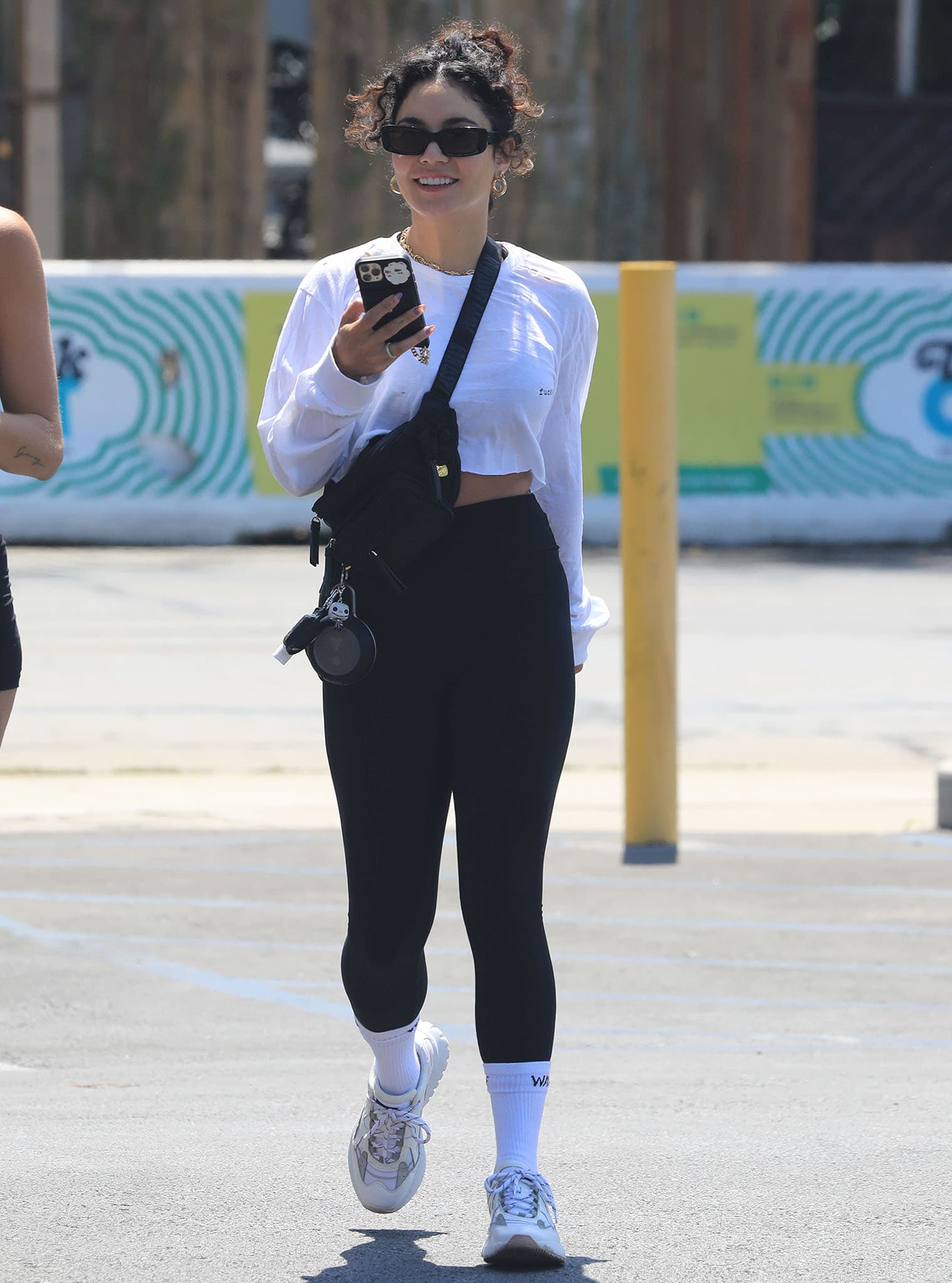 Vanessa Hudgens shows a glimpse of her midriff in a white crop sweater and black Stax leggings (Credit: Mega / WENN)
She carried her Poppy Lissiman waist bag across her chest and shielded her eyes behind a pair of '80s-style black rectangular sunglasses.
Vanessa Hudgens carries her Poppy Lissiman waist bag across her body (Credit: Mega / WENN)
Continuing with her bold gym looks, Vanessa sported a coordinating cherry red sports bra and high-rise leggings a few weeks back.
She added more colors to her look with a green and purple Frat Fuzzy Stripe cardigan from London-based brand The Ragged Priest.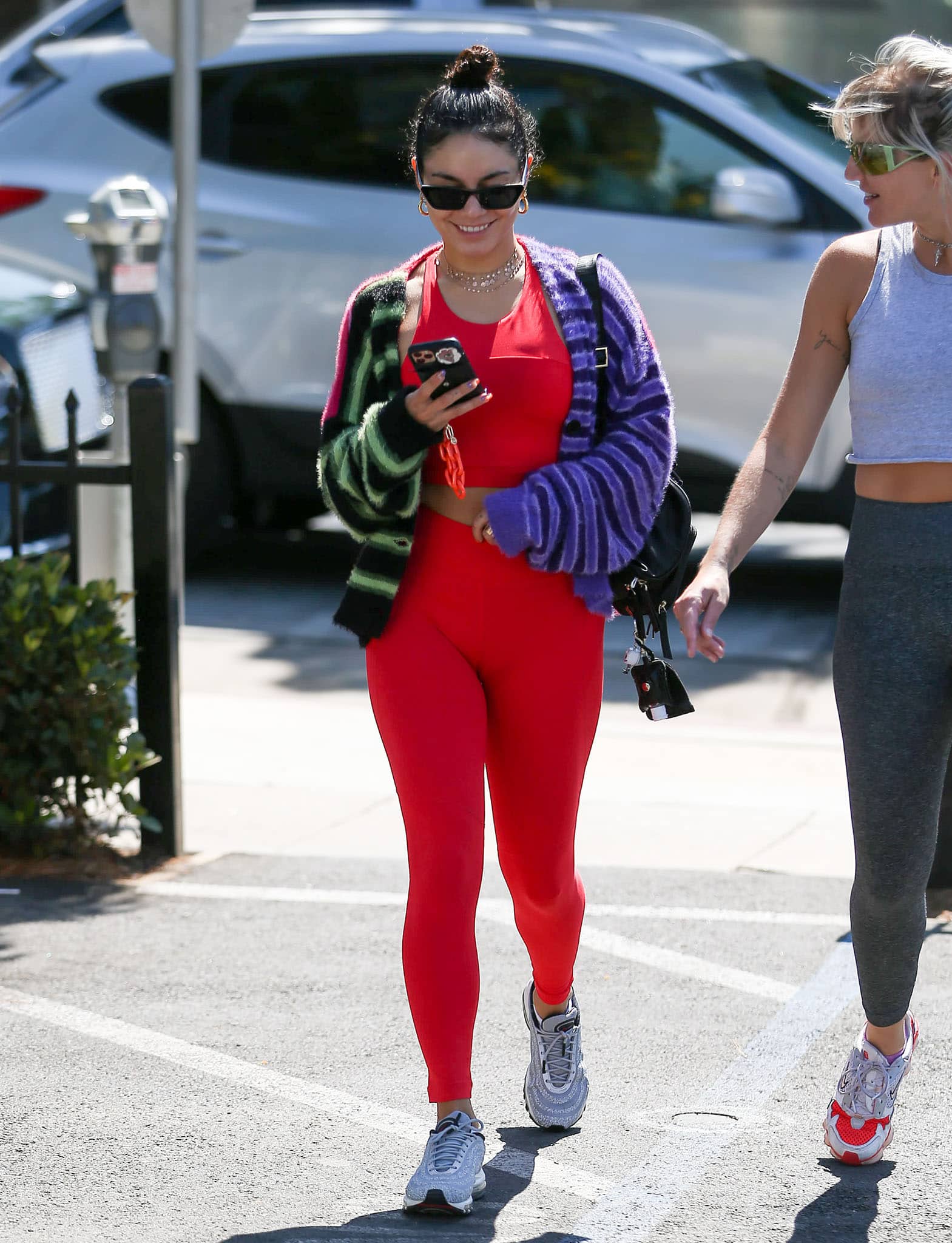 Vanessa Hudgens leaving a workout session in coordinating red sports bra and leggings with green and purple The Ragged Priest cardigan on June 23, 2021 (Credit: Mega / WENN)
Pulling her tresses up into a tight high bun, the fitness enthusiast glammed up her sporty ensemble with a Jacquie Aiche Hammered Disc necklace, a 31 diamond Emily necklace, and $30 Ten Wilde Amalfi hoop earrings.
Vanessa Hudgens pulls her hair up into a tight high bun and covers her eyes with black sunglasses (Credit: Mega / WENN)
For her footwear, Vanessa opted for a pair of sparkly Nike Air Max 97 shoes.
Released in 2017, these shoes were created in partnership with Swarovski. They are done in a silver-bullet colorway and are encrusted with crystals with reflective fluid lines and a full Max Air unit in the midsoles.
Vanessa Hudgens slips into a pair of Swarovski x Nike Air Max 97 shoes (Credit: Mega / WENN)